Ghostface has moved to the Big Apple and is still after the Carpenter sisters, introduced in Scream (2022).
Scream VI picks up about a year after its predecessor. Sam (Melissa Barrera) and Tara (Jenna Ortega) now live in New York. Tara is attending college and Sam won't let her out of her sight, still traumatized by the events of the previous film. Twins Mindy (Jasmin Savoy Brown) and Chad (Mason Gooding) moved to New York with the Carpenter sisters. Rounding out their group are the newcomers: Sam and Tara's roommate Quinn (Liana Liberato), Chad's roommate Ethan (Jack Champion) and Mindy's girlfriend Anika (Devyn Nekoda).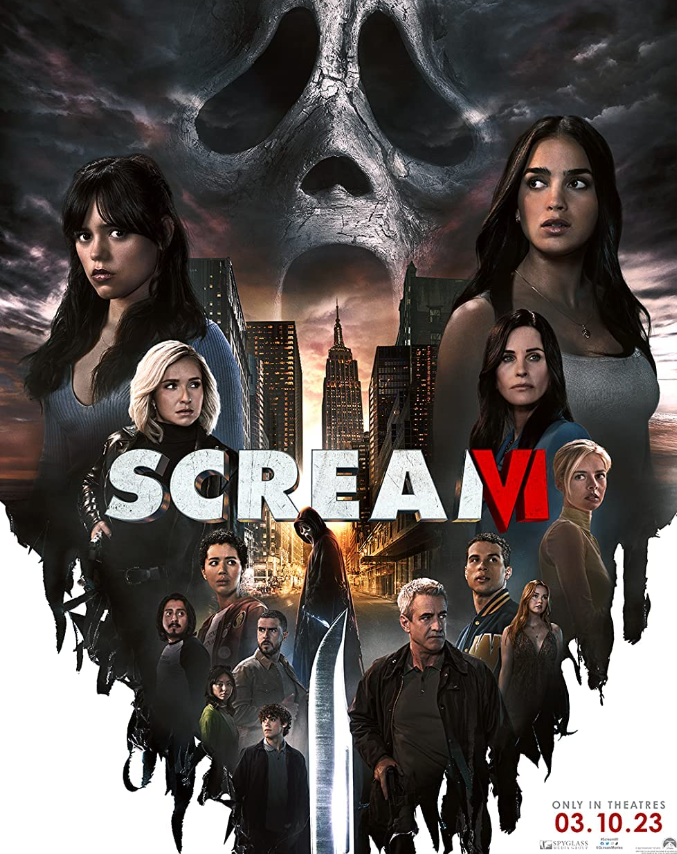 It's clear from the beginning the Core Four (the Woodsboro Legacy survivors' group name as coined by Chad) are dealing with the events in their own ways. While Mindy and Chad appear relatively okay by comparison, Sam is in therapy and Tara is acting out, refusing to let the killings define her life.
Unfortunately for the Core Four, another has donned the Ghostface (voiced by Roger L. Jackson) costume and is targeting them again. This time, Ghostface is less concerned about movie trivia and in his own words, wants to punish the Carpenter sisters, in particular Sam, who has been accused of framing the two previous Ghostface killers.
Quinn's father, Detective Bailey (Dermot Mulroney) investigates the latest killings and quickly finds himself help in the form of legacy character Kirby Reed (Hayden Panettiere). Kirby is revealed to have survived the events of Scream 4 and is now an FBI agent investigating Ghostface attacks.
Rounding out the cast is the wonderful Gale Weathers (Courteney Cox), who is revealed to have gone back on her word and wrote a book about the Woodsboro legacy killings. Gale, however, wants to stop the Ghostface killings. Her investigative journalism reveals a shrine to all the previous Ghostface killers, with items from each crime scene on display, including previous Ghostface costumes. Gale also has her first phone call with Ghostface, and her big moment outdoes her chase scene in Scream 2 by a long shot. Your heart will be pounding as Gale comes face-to-face with the killer on her own for the first time.
Noticeably absent from the movie is Neve Campbell as Sidney Prescott. Unfortunately, Paramount did not offer Neve what she was due, and Neve made the choice to step away from this installment. The film does mention Sidney several times and her character is treated with respect. Her absence also allowed for more development of the Core Four, which helped make the film feel fresh, though Sid's absence is certainly felt. Hopefully in a future film Neve and the production company can come to an agreement.
Scream VI is a worthy entry in the franchise. Ghostface feels different in this film, with his motive having little to do with movies or getting famous. The focus on the Core Four allows the audience to learn more about each character and flesh out their characterization, which might have been difficult had Sidney been in the film.
You'll find your heart pounding during an intense chase scene and then you'll be laughing in the next minute. The film is full of screams and laughs, just like the previous Scream films, and it's a fun time for all viewers.
Scream VI is playing exclusively in theatres.