Originally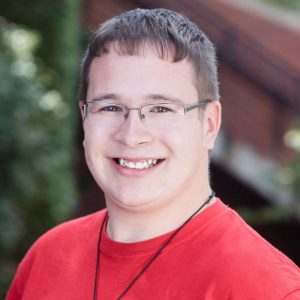 from the heartland of America in Kansas, TJ Rigg now calls Texas home, but Kansas always holds a special place in his heart.
Rigg grew up in Wichita and Andover, Kansas. He attended elementary school in Wichita and middle and high school in Andover, first at Andover Central Middle School and later at Andover Middle and High Schools, home of the Trojans. At Andover High, he was active in marching band, pep band, concert/symphonic band, school publications, newspaper and theatre and kept busy with all of those activities before his graduation in May 2012.
TJ Rigg attended Wichita State University from 2012 to 2017, with a major in general studies with an emphasis in communication. Throughout his collegiate career, he was highly active in the student-run newspaper, The Sunflower. He served as editor-in-chief of The Sunflower for the 2014-15 school year. Under Rigg's direction, The Sunflower became a news powerhouse, going from writing mostly features to a focus on covering hard news on campus. To that end, he led The Sunflower's team in earning its first All-Kansas Award for excellence in collegiate journalism in nearly 20 years at the 2015 Kansas Collegiate Media conference. For the last two years of his time at The Sunflower, Rigg returned to his role as a reporter and copy editor, serving primary as a political reporter and as a mentor to the younger staff members, who have continued his approach to covering WSU News.
In addition to The Sunflower, Rigg has also written for and taken photos for several other publications and one television station, including The Flint Hills Media Project, The Andover American (which later merged with two newspapers into The Butler County Times-Gazette), KWCH 12 Eyewitness News, The Gayly, The Emporia Gazette and The Wichita Eagle. His reporting, editing and photography has earned him several awards over the years and he is proud of the work he did as a journalist.
Besides journalistic writing, TJ Rigg is also a creative writer and has published works on various websites and has published three books through CreateSpace, an independent publishing company partnered with Amazon. His three books are available for sale on his Amazon Author Page. He is a seven-time participant and winner of National Novel Writing Month (better known as NaNoWriMo), writing his three books for NaNoWriMo 2011, 2012 and 2013.
Since 2017, Rigg's participation in NaNoWriMo has been focused on fanfiction. In 2017, he rewrote his Harry Potter fanfic, A Loyal Friend, which to date is his longest story written, at 105,821 words and 51 chapters. In 2018, he rewrote his Star Wars trilogy Birth of the Sith, which was originally written as a fan film project in 2007, and focused on the birth of the Order of the Sith Lords. In 2019, he wrote an original Stranger Things fanfic titled Shipboard Romance, a story that follows the Stranger Things characters in an alternate timeline where love blossoms during a summer cruise. In November 2020, Rigg wrote a crossover fanfic of The Terminator and Stranger Things, called No Fate. The story retained much of the plot of the first two Terminator films, with the characters of Stranger Things occupying the roles of the characters from the films.
In November 2021, Rigg will spend NaNoWriMo 2021 reflecting on his career in news, with his memoir Headline Goes Here: A Reporter's Adventures. He will reflect on his nine years working in news, focusing on the years in high school and in college working for The Sunflower at WSU and the many adventures he had as a reporter.